Sales & Marketing Strategy: Market, Message Method
19th April 2019
BNMA Blog
---
Market
Before we begin selling, we must determine who our target market is. Broadly, a target market is a segmented group of people or businesses. For example, it could be that you are a manufacturing company that sells to OEMs on the East Coast. While we've heard answers like this many times, it is an incomplete way of defining your market.
A complete approach to defining your market is more specific to who you are targeting and why. Your market should be defined within these firmographic filters in the graphic below: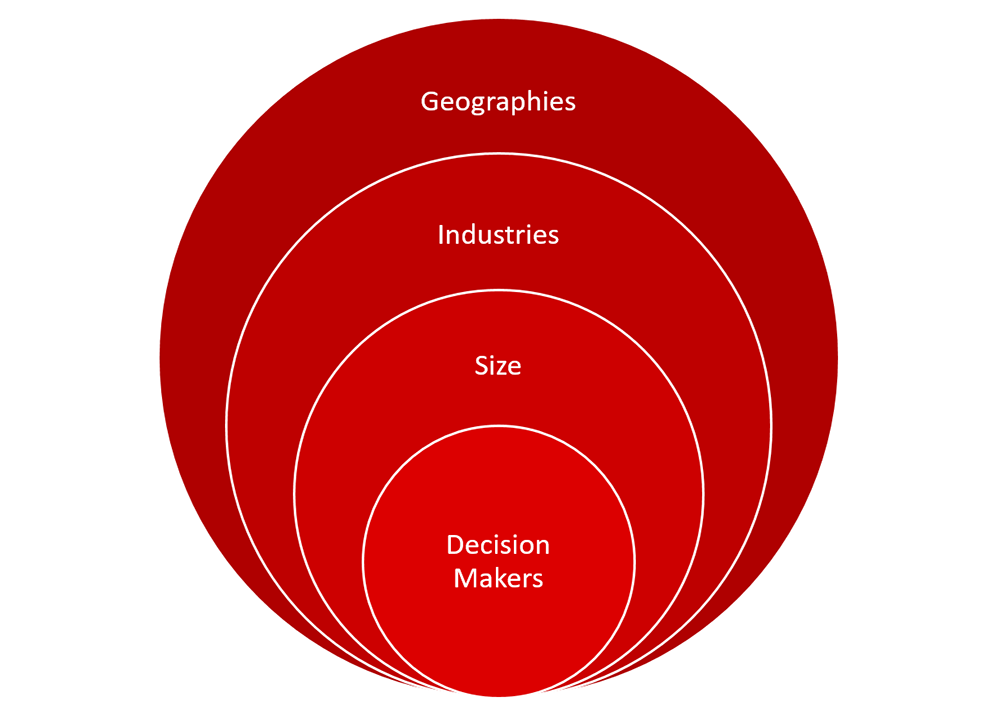 Geographies: What geographies are you regarded by prospects as best positioned to serve them? While a growth-oriented sales process accepts business from wherever it comes – it's also built around high probability and recognizes that the probability of acquiring a customer in a targeted area is easier, cheaper, quicker, and more likely than acquiring customer from outside your targeted geography. This is because of added costs & time in the acquisition of a customer (SEO/Google ads, travel costs, additional advertising/outbound actions to overcome branding of competitors local to the customer), delivery of the product or service (shipping costs and schedule of transportation risk), and post-delivery support (additional shipping/transport cost of rework and in-person support).
Because of these added costs that are involved with trying to chase business outside of your targeted geographies – it will be more effective to focus your marketing strategy, campaigns, and salesforce on a pre-defined geography.
Industries: What industries best align to your competencies? Where can you be recognized as a top provider? First – let's define competency. From a customer's perspective, a competency is not a top-notch management structure, an advanced technological environment, a supply chain, or financial backing. These elements may allow you to display a competitive competency – but in themselves do not define why a customer should buy from you rather than your competitor.
When thinking through your targeted industries – ask yourself "Can we help this type of company to either 1) Increase revenue 2) Increase profitability 3) Improve first-time quality 4) Reduce cycle-time or 5) Better meet compliance?" If the answer is yes, and you can deliver these results in comparison to the top 5-10 competitors in the space – then you should include that industry in your target market.
Make sure you spend the time thinking through your competitive match-ups here. It is much better to have a strong showing in 2 or 3 industries than a weaker one in 10. Remember, a target market is where you are directing your marketing and sales focus, where you are seeking repeatable targeting and developing references and testimonials.
Size: What is the ideal size of the organization that best aligns to your business model? This comes back to identifying which type of company your organization can provide a competitive advantage for. Do you work better with smaller or larger sized companies? Do you have a stronger referral base of a certain size of company?
When identifying size, the two most common ways of measuring it are in terms of total revenue and number of employees. You are free to use either – but company databases such as LinkedIn are likely to have more information according to number of employees. Pro tip: you can use LinkedIn Sales Navigator to identify the number of employees per department. For example, at Worldleaders – we primarily target companies that have between 3 and 15 people within their sales department.
Decision Makers: About 90% of the companies that we work with leave out the most important part of their target market – the decision maker that they will actively market and sell to.
In order to truly become a high probability selling organization that experiences YOY growth, we must spend time to understand the individual in the organization you are selling to that is responsible for developing the competency that your offering improves.
Let's get one myth out of the way before we begin identifying who this person is. The business-level decision is not procurement. Procurement's job specs do not involve improving the five competencies that we mentioned above (revenue, profitability, first-time quality, cycle-time, and compliance) nor do they have the ultimate ability to sign-off on a purchase. Instead, they are mandated to drive prices down and create scrutiny and delay within the sales cycle. Stop beginning your sales cycle with these people.
Instead, start your sales cycle with the business-level stakeholder. The trick to starting with the business-level stakeholder, is first understanding what a business-level stakeholder is and isn't. Let's start by identifying the three major stakeholders in a sales cycle.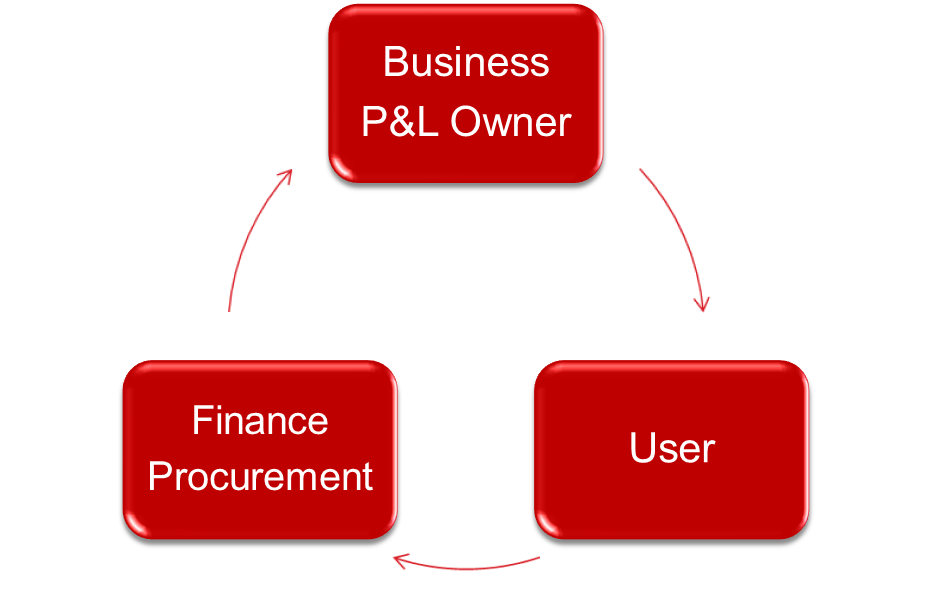 Business Level Stakeholders have profit and loss responsibility for the organization or business unit you are targeting. They understand the overarching business objectives of the company & are responsible for increasing the competitiveness of the organization / product you are supplying technology / parts for. In short – business level stakeholders are concerned with how your offering will help them to either a) make more money or b) save more money. They also have a higher authority than finance and user level stakeholders. Because of this – it is important to target and start your sales cycle with these types of stakeholders. Failing to start a sales cycle with the business level decision maker is the #1 mistake we see companies make and ultimately leads to stalled deals & weak buying cases.
Example: Product Manager, Operations Manager, CEO
User Level Stakeholders have responsibility for incorporating your product/service into their current structures and will most likely be the individual interfacing with your technology. Because of this, it is important to incorporate them into your sales cycle – however, do not start with them. Why? If it's the business level stakeholder's responsibility to make money or save money – it is the user level stakeholder's responsibility to operate, and in many cases, your offering will alter how that person operates and could potentially expose some inefficiencies in the way that they operate. Once your sales team has established a conversation with the business level stakeholder, ask them to include the user level stakeholder in the conversation because of technical aspects such as capability, usability, and reliability. They will also be concerned with the risks & disruptions of the integration of your technology against their current approach. Leaving user level stakeholders out of the conversation usually lead to the prolonging of a sales cycle right when you think it's about to close. Make sure to bring them in.
Example: Engineer
Financial Level Stakeholders have responsibility for and are compensated by driving down costs. They look for price discounts, negotiate terms and conditions – so much so, that sometimes it sacrifices the product quality our business need. Starting your sales cycle with a financial level / procurement stakeholder is detrimental mistake. Discipline your team away from it.
Example: Procurement
Message


Method
You've got your market, you've got your opening message – now what is the top 1% marketing and sales method for finding and closing new business? Find out by reading The Smart Sales Method